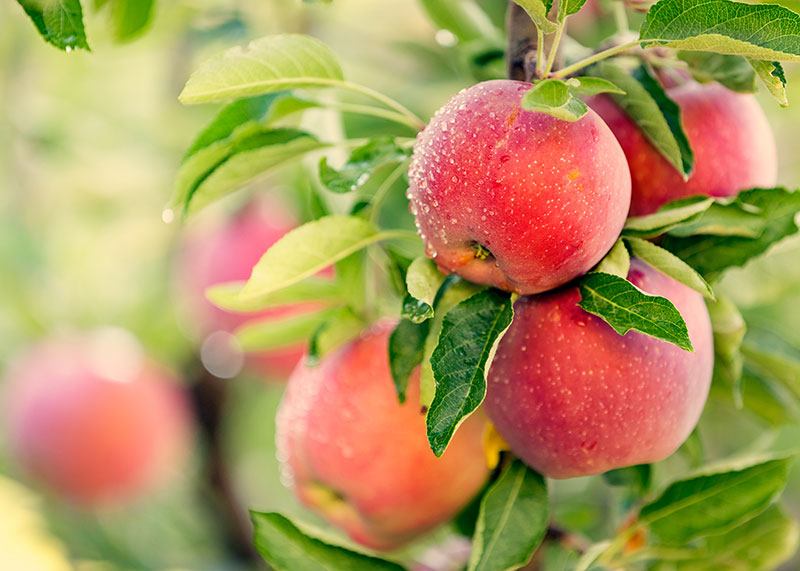 3 Fruit Trees to Plant in Your Sonoma County Yard this Spring
Northern California may be home to some of the most famous grapes that find their way into wine bottles across the world, but many locals also take advantage of the acclaimed terroir by growing a wide variety of fruit trees around their home.
Knowing what type of fruiting tree varieties will grow best in your area is essential to ensuring their long term health and production quality. A simple tool you can use to determine this is the USDA Plant Hardiness Zone map. This map shows average annual minimum winter temperatures divided into zones of 10-degree Fahrenheit, and can even be divided further into more granular 5-degree Fahrenheit ranges for the more picky fruit trees.
Sonoma County falls into USDA's plant hardiness zone of 9b, making it an ideal location for a small backyard orchard with warmer temperatures, low humidity, and year-round planting options. The area's winter chill is also an important factor in successfully stimulating some varieties of fruit production and helping fruit grow.
As spring is just getting underway in Sonoma County, now is a great time of year to find the perfect fruiting trees to plant around your property. Read on to learn about three popular fruit trees that grow well in Sonoma County, and are sure to beautify your landscape.
1. Fuji Apple Trees
The Fuji apple is one of the most popular apple varieties today due to their sweet, juicy taste and long shelf life. Lucky for us, the Fuji tree is also well adapted to our Bay Area coastal climate.
Fuji apple trees thrive best in full sunlight and prefer a moist, but well-drained loamy soil, which is a blend of clay and sand. The semi-dwarf Fuji trees that are common at nurseries, can grow up to 12-15 feet. You will need to keep young trees well watered, and once established, caring for your tree is easy with annual thinning and pruning in the winter.
The Fuji apple tree does require a partner for proper pollination, but most other apple tree varieties will aid in cross-pollination. For optimal fruit production quality, the best Fuji pollinators are those that blossom at the same time, such as the Gala and Crabapple tree varieties. You can expect your first Fuji fruits to appear once the tree matures to 4 or 5 years old.
2. Santa Rosa Plum Tree
The Santa Rosa Plum is a hometown favorite, first introduced in 1906 by Luther Burbank in — you guessed it — Santa Rosa!
To encourage growth and reduce transplanting shock, this variety of plum tree is best planted in late winter or in early spring while their growing cycle is dormant. The Santa Rosa Plum tree is an ideal addition to your Sonoma County property because it loves the region's well-drained loamy soil and full sun exposure. You can expect it to reach up to 25 feet tall, so regularly pruning fruit-bearing branches is required. A favorite method is to cut the central trunk short and encourage large branches to grow outward rather than upward from there.
Once the Santa Rosa plum tree reaches maturity at 3 to 5 years old, they start to produce delicate white fragrant blooms each spring. Plum trees are self-fruitful, so the blossoms turn to delectable red plums that are ready for harvesting in the summer.
3. Meyer Lemon Trees
The Meyer lemon tree is almost an essential fixture in any Sonoma County home, and can be found in nearly every yard!
This citrus tree grows 6-10 feet tall, making it a perfect ornamental addition to any outdoor space. Meyer lemon trees should be planted in well-drained soil during the early spring, and will need at least 8 hours of sunlight a day. Periodical pruning to remove long leads — branches that don't produce fruit — will help keep your lemon tree sculpted and in tip-top shape.
This lemon tree variety has evergreen foliage and is self-pollinating, so it can start producing fruit in as little as 3 years from a seed. The Meyer lemon is much sweeter than a typical lemon and ideal for lemonades, deserts, summer dishes, and cocktails! Despite their popular flavor, their thin skin makes them hard to ship so they are rarely found in stores, making it even more enticing to start growing yours today.
The best part? They produce fruit all year long!
Vintage Tree Care is Here to Help Your Sonoma County Fruit Trees Thrive
For over 25 years Vintage Tree Care has been providing expert tree services to Sonoma County homeowners. Our certified arborists are here to provide specialized care to ensure your fruit trees remain healthy, beautiful, and produce delicious fruit for years to come!
If you have questions about your fruit trees or would like to schedule a checkup on their health and safety, please contact us online to request an Estimate for our professional arborist services.
The comments are closed.