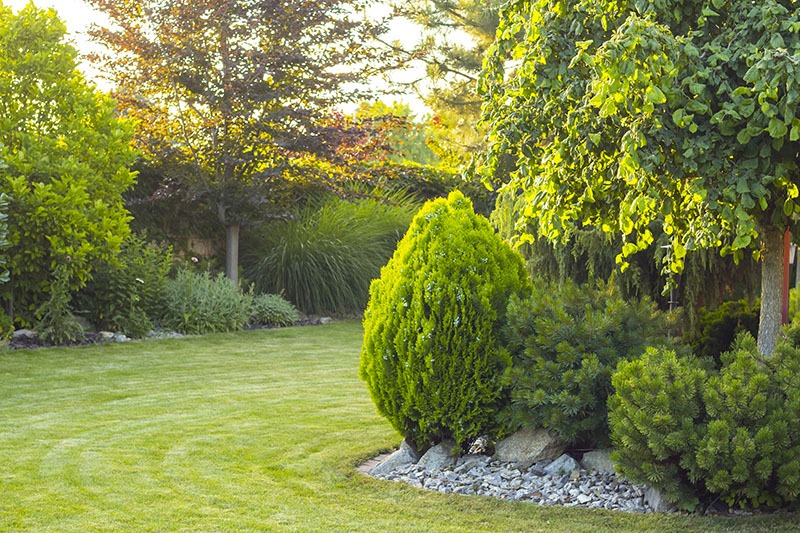 Plan Before You Plant With These 3 Creative Ways to Use Trees on Your Property
Add unique textures, extra shade and intriguing design components to your property with these tips on how to design a beautiful landscape using trees.
1. Be Purposeful with Your Design When You Landscape With Trees
Before you get to planting, take time to determine what function your trees with serve on your property.
Add Seasonal Shade & Sun Exposure With Trees
Watch the beautiful colors of the seasons change right in your own backyard by adding seasonal shedding trees to your property. Landscaping with trees that grow and shed their leaves seasonally is the perfect way to add shade in the warm months, and ensure more sun exposure in the winter season as well.
Plant Fruit Producing Trees the Smart Way
Imagine always having fresh cherries, plums or lemons right within reach! Fruit trees are a great way to be more self sufficient but can also invite unwanted pests near your home. If you want to lessen your impact on the local wildlife while also ensuring they don't get too friendly, consider planting any fruit bearing trees near the outskirts of your property.
Use Trees to Add Privacy The Natural Way
Adding more privacy to your property without being unwelcoming can be a challenge. Instead of building a big fence, consider the benefits of planting a row of trees! Choosing a tree from the evergreen family will ensure it stays full year round, and is essential to landscaping with privacy in mind. Create a permanent barrier that will never be an eyesore and offers added benefits like natural shade and privacy.
2. Create A Unique Landscape With Trees
Landscaping with trees allows you to manipulate your space in a multitude of ways! You can unify, separate, enclose or set focus to specific areas on your property by planting trees in certain designs.
Create an Avenue of Trees
In landscaping, when you add a line of trees to either side of a walkway or path it is called an "allée", or an avenue. Create an inviting space with an avenue of trees along the walkway on your property, while providing natural shade and privacy.
Plant a Quad of Trees
With a quad you are drawing focus to spot on your property and creating a space that is almost like an outdoor room. By planting four trees in a grid-like design you are creating a beautiful hangout spot that everyone will enjoy.
Grow a Grove Of Trees
When planning a design for a smaller space, you can add a small grove to your property, with no more than two or three multi-limbed trees. This unique design adds texture and dimension to your property that will provide shade and protection.
3. Know The Best Trees To Plant on Your Property In Sonoma County
Western Redbud Tree
Native to California, the Western Redbud is a seasonal blooming tree and easily recognized in the spring by the pink and purplish flowers that bloom. This tree will offer you seasonal shade and sun exposure as well as beautify your property.
Chinese Pistache Tree
These trees, while not native are very common around Sonoma County. The Chinese Pistache is notable for its dark green leaves changing to bright orange and red hughes in the winter. They are also known for being drought resistant and easy to grow in many soil types.
The Italian Cypress Tree
The Cypress tree is an evergreen, meaning it stays lush year round, and offers a multitude of landscaping options. It's moderately fast growing, drought resistant, and tall, making it great for privacy, and shade.
Vintage Tree Care Knows Landscaping and Trees
If you have any questions about how to care for your existing trees, don't hesitate to contact the tree care professionals at Vintage Tree Care. We are fully certified, licensed and insured, and are committed to providing quality without compromise in all services.
Whether your job is big or small, residential or commercial, simple or complex, count on us to complete the job on time, within budget and to your complete satisfaction. Call on the tree care professionals at Vintage Tree Care to assist with your next landscaping project.
The comments are closed.